high carbon Angular-contact ball bearing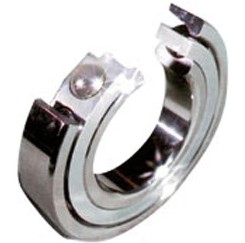 high carbon Angular-contact ball bearing
Packaging & Delivery:
Packaging Detail: According to customer's requirements.
Delivery Detail: Based on the distance (ASAP)
Specifications:
The same time to bear radial load and axial load and be able to work at a high speed.
Angular-contact ball bearing: The same time to bear radial load and axial load and be able to work at a high speed.
1. Product name: Angular-contact ball bearing:
2. Standard bearing materials: vacuum degassed, high carbon, chromium bearing steel
3. Packing: packed in the plastic pipes or the thin membrane bags, then to be packed into the medium size paper box. If you have any requirements in packing may contact us.
4. Rustresisting: bearing should normally be put under the protected condition then it is to be stored and preserved. The rustresisting period is half a year.
Function of bearing: Bearings one part of the role is support, its essence is the ability to bear the radial load. In another word: it controls axial and radial movement. Without bearing the consequences of motor is simply not work. Because the shaft may move in any direction, the electrical work required to rotate shaft only. Theoretically speaking, the role of transmission can not be achieved, whats more, bearing also affect the transmission, in order to reduce this impact, bearing lubrication must be to achieve good in high-speed shaft. While most of the bearings must have a lubricating oil which responsible for high-speed operation. As the friction will not only increase energy consumption, even more frightening is very easy to damage bearings. The sliding friction into rolling friction of the argument is one-sided, because a kind of sliding bearing is called.
Others: If you want to know more details, please do not hesitate to contact us by E-mail or by fax. We are ready to refer you our favorable price with high quality services, for quality evaluation and marketing activities. If you are interested in this series, pls contact with us by email for more information, tks.
We export high quantities high carbon Angular-contact ball bearing and relative products, we have huge stocks for high carbon Angular-contact ball bearing and relative items, we supply high quality high carbon Angular-contact ball bearing with reasonbable price or we produce the bearings along with the technical data or relative drawings, It's priority to us to supply best service to our clients. If you are interested in high carbon Angular-contact ball bearing,plz email us
admin@tradebearings.com
or send the purchase details to trade b2b website(
www.tradebearings.com
) so the suppliers will contact you directly
Previous Product:
« High precision Brass Taper Roller Bearings (L44643/10)
Next Product:
skf angular-contact ball bearing 3218A »