High precision heavy-duty ball screw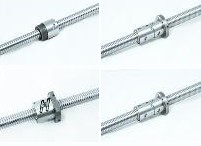 High precision heavy-duty ball screw
Brief Description to ball screw

1. Our ball screw assembly has the advantages of high efficiency, low energy consumption, long service life, large loading capacity, high precision, small starting torque, easy maintenance, high sensitivity, easy lubricating, etc. the series include outer circulation and inner circulation. Shaft material is SCM 450m nut is SCM 415, ball is SUJ2. Precision ranges from C0-C10.
2. Our super-long high precision heavy-duty ball screw whose length is more than or equal to 12m and diameter is 250mm has reached internationally advanced level.
3. All the technical parameters of our ball screw assembly are in accordance with national standard.
4. The super-long heavy-duty ball screw can be clamped at one stroke. It needs not to turn around for splicing while it is ground. This ball screw enjoys high precision, stable performance and long service life.
5. Our ball screw is characterized by stylish structure and reliable performance. Its accuracy reserve is 10-20%.
6. Unique patented technology is adopted in the production. 12m CNC thread grinder and 10m ball screw dynamic monitor are utilized to process and inspect ball screw raceway.
7. different types: high speed ball screw, stocked ball screw series, stock ground ball screw series, ground ball screw with end machining,
8. more parameters for ball screw includes: lead, ball diameter, number of circuits, stiffness, basic dynamic rating load(kgf), basic static rating road(kgf).
Nut type codes: S single nut, D double nut, F with flange, C without flange
Our main products include ball screws, linear guides, cyclone dust collectors, coupling, linear bearing and caster etc. All these products have passed ABS test, so you can feel secure in using them.
We are located near highways, airports and a sea port. This will help reduce your transportation cost.
We would like to provide service for more customers from all over the world. Please contact us if you are interested in our products.
Christine WANG
Marketing Department
Tianjin Tengdaxin Electromechanical Products Co., Ltd.
Chunxiang Building, No. 91, Nankai District, Tianjin, China
Tel: 86 22 27682193
MP: 13820402166
MSN: fiona2005@live.cn
E-mail: mychristine@sohu.com
We export high quantities High precision heavy-duty ball screw and relative products, we have huge stocks for High precision heavy-duty ball screw and relative items, we supply high quality High precision heavy-duty ball screw with reasonbable price or we produce the bearings along with the technical data or relative drawings, It's priority to us to supply best service to our clients. If you are interested in High precision heavy-duty ball screw,plz email us
admin@tradebearings.com
or send the purchase details to trade b2b website(
www.tradebearings.com
) so the suppliers will contact you directly
Previous Product:
« Importer Of Eccentric Bearing NTN 100 UZS 90
Next Product:
Importer Of Linear Motion Assemblies (Blocks & Rails) RSR12ZMUU+270LM »