Linear Guide (BRH Series,BRS Series) 15mm-45mm, Length 0-4000mm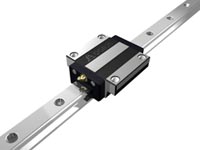 Linear Guide (BRH Series)
Bearing: linear guide
1. Material: Bearing steel GCr15, hardness is more than 62 degree(HRC62)
2. Quality standard: ISO9000-2001
3. Size: 15mm-45mm, Length 0-4000mm
4. We have Grade N, Grade H and Grade P in stock

As a professional supplier of linear motion products. We could supply linear bearing, linear shaft, ball screw support and couplings.
We also import some good brand of linear guides and ball screws from Tai Wan in stock. Both price and quality are good. Such as Tai Wan HIWIN, ABBA, STAF, PMI linear guide and TBI ball screw. Especially, we have too many ABBA linear guide in stock, deliver time is fast! ! !
Feather of linear guide
Brand name
Quality standard
ISO9000-2001
Size and length
Diamater:15mm-45mm,Length:0mm-4000mm
Material
Bearing steel GCr15(HRC62)
Accurancy
Grade N,Grade H,Grade P
Proload code
ZF,Z0,Z1,Z2,Z3
Performance
Low noise and long life
Machine end
Machine end by our costomers' drawings
Modle number
BRH Series,BRS Series
Payment terms
A:By paypal,B:Western Union
B:30% TT in advance,70% TT against Copy of BL
C:100% L/C At sight
Fob port
Ning bo,Shang hai port
BRH Series linear guide dimemsions
BRH15A
BRH20A
BRH20AL
BRH25A
BRH25AL
BRH30A
BRH30AL
BRH35A
BRH35AL
BRH45A
BRH45AL
BRH15B
BRH20B
BRH20BL
BRH25B
BRH25BL
BRH30B
BRH30BL
BRH35B
BRH35BL
BRH45B
BRH45BL
BRH15C
BRH20C
BRH20CL
BRH25C
BRH25CL
BRH30C
BRH30CL
BRH35C
BRH35CL
BRH45C
BRH45CL
BRS Series linear guide dimemsions
BRS15B
BRS15BS
BRS20B
BRS20BS
BRS25B
BRS25BS
BRS25BL
BRS30B
BRS30BS
BRS30BL
BRS35B
BRS35BS
BRS35BL
BRS45B
BRS45BL
BRS20AS
BRS25A
BRS25AS
BRS20CS
BRS25C
BRS25CS
We export high quantities Linear Guide (BRH Series,BRS Series) 15mm-45mm, Length 0-4000mm and relative products, we have huge stocks for Linear Guide (BRH Series,BRS Series) 15mm-45mm, Length 0-4000mm and relative items, we supply high quality Linear Guide (BRH Series,BRS Series) 15mm-45mm, Length 0-4000mm with reasonbable price or we produce the bearings along with the technical data or relative drawings, It's priority to us to supply best service to our clients. If you are interested in Linear Guide (BRH Series,BRS Series) 15mm-45mm, Length 0-4000mm,plz email us
admin@tradebearings.com
or send the purchase details to trade b2b website(
www.tradebearings.com
) so the suppliers will contact you directly
Previous Product:
« High Precision Miniature Ball Screw (SFK Series)
Next Product:
High Precision Linear Bearing LM,LM..L,LME,LME..L,ST,KH Series »