Linear Motion Ball Slide Block Bearing SCS6UU/LUU-SCS60UU/LUU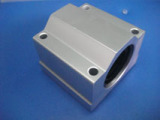 Linear Motion Ball Slide Block Bearing SCS6UU/LUU-SCS60UU/LUU
1. Linear motion slide block bearing SCS6UU/LUU-SCS60UU/LUU
SBR12UU/LUU-SBR50UU/LUU, TBR16UU-TBR30UU
2. Good price&good quality&good service
3. Exported to many contries.

Bearing: Linear slide block bearing

As a professional linear motion products manufacturer with many years expriences, we could offer many kinds of linear motion ball slide bearings and good quality but more competitive price of linear motion ball slide bearings

Feature:

1. Complete sliding units system with high accurrfangce and can be moved without deflection

2. Long life use.

3. Prompt delivery and good service.

4. Stocking feet and low batch wholesale.

5. ISO9001: 2000.
We export high quantities Linear Motion Ball Slide Block Bearing SCS6UU/LUU-SCS60UU/LUU and relative products, we have huge stocks for Linear Motion Ball Slide Block Bearing SCS6UU/LUU-SCS60UU/LUU and relative items, we supply high quality Linear Motion Ball Slide Block Bearing SCS6UU/LUU-SCS60UU/LUU with reasonbable price or we produce the bearings along with the technical data or relative drawings, It's priority to us to supply best service to our clients. If you are interested in Linear Motion Ball Slide Block Bearing SCS6UU/LUU-SCS60UU/LUU,plz email us
admin@tradebearings.com
or send the purchase details to trade b2b website(
www.tradebearings.com
) so the suppliers will contact you directly
Previous Product:
« High Speed SKF Angular Contact Ball Bearing 1800MM - 5MM
Next Product:
High Precision Linear Guide Rail (HDW25) »