Models of 150mm length AQ9 stainless steel linear motion guide system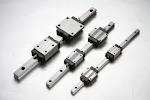 Models of 150mm length AQ9 stainless steel linear motion guide system
1.Work precision
2.Slash drive rate
3.Lubrication simple structure
4.Dustproof, sealing ability
5.Easy installation, easy s
QUADRATE MIN LINEAR GUIDE SIRIES PRODUCTS
<1>Quadrate series MIN linear guide characteristics
Small volume, lightweight, especially suitable for miniaturization equipment. The slider, guide material provide stainless steel and alloy steel two kinds. Stainless steel material of linear guide, contains the slider, guide and other metal parts such as steel, keep the machines etc, all use stainless steel material, have antirust properties. Adopt goeth type four-point contact design and can withstand each direction load, and have strong rigidity, high precision characteristics. There, in the design of steel ball keep accuracy allowed have interchangeability.
<2> ZSZ quadrate series are mainly applied in: semiconductor manufacturing equipment, printed circuit board IC assembly equipment, medical equipment, machine arm, precise measurement instrument, office automation equipment, other small linear slide device.
<3> ZSZ quadrate series body structure
Scroll circulatory system: the slider, guide, cover, steel, keep the device
Lubrication system: ZSZ quadrate 15 cover side with nozzle, provide customer the note oil, while ZSZ quadrate 7, 9 and 12 is in reserve side cover note oil hole, can put oil or grease to infiltrate the slider internal lubrication.
Dustproof system: scrape oil slice, dustproof sheet (7,9,12,15 specification optional), bolt cover (7,12,15 specifications).
<4 ZSZ quadrate series linear guide size table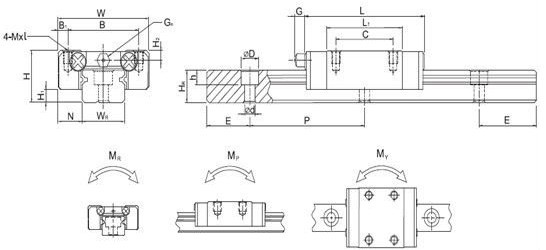 Nominal model

Combination envelop dimensions

Slide block size

(H)

(W)

(L)

(B)

(C)

Slider height

L1

screw

AQ7

8.20

17.00

22.80

12.00

8.00

6.60

13.40

M2

AQ9

10.00

20.00

31.50

15.00

10.00

7.92

19.85

M3

AQ12

13.00

27.00

35.40

20.00

15.00

10.50

20.50

M3

AQ15

16.00

32.20

40.00

25.00

20.00

12.00

25.80

M3
Nominal model

Guide size

Basic rated load

(H1)

(M1)

Guide pitch

d1*d2*h

C0 (KN)

C1 (KN)

AQ7

7±0.02

4.90

15.00

2.3*4.4*1.2

0.83

1.28

AQ9

9±0.02

5.50

20.00

3.5*6.0*3.5

1.40

2.20

AQ12

12±0.02

7.50

25.00

3.5*6.0*3.5

2.50

1.92

AQ15

15±0.02

9.50

40.00

3.5*6.0*3.5

4.33

6.45
<6>ZSZ quadrate series linear guide product model
ZSZ quadrate series small size of guide rail, divided into ordinary, high accuracy, precision level of level 3, customers can choose according to equipment precision demand for accuracy.
Precision table (1-1)
| | | | |
| --- | --- | --- | --- |
| accuracy grade | (C) | (H) | (P) |
| Height (H of the allowable error in size) | ± 0.04 | ± 0.02 | ± 0.01 |
| Wdth (N the allowable error in size) | ± 0.04 | ± 0.025 | ± 0.015 |
| Paired height (H mutual error) | 0.03 | 0.015 | 0.007 |
| Paired width N mutual error (benchmark rail) | 0.03 | 0.02 | 0.01 |
We export high quantities Models of 150mm length AQ9 stainless steel linear motion guide system and relative products, we have huge stocks for Models of 150mm length AQ9 stainless steel linear motion guide system and relative items, we supply high quality Models of 150mm length AQ9 stainless steel linear motion guide system with reasonbable price or we produce the bearings along with the technical data or relative drawings, It's priority to us to supply best service to our clients. If you are interested in Models of 150mm length AQ9 stainless steel linear motion guide system,plz email us
admin@tradebearings.com
or send the purchase details to trade b2b website(
www.tradebearings.com
) so the suppliers will contact you directly
Previous Product:
« Importer of deep groove ball bearing no. 6201zz ang 6208
Next Product:
TH-12 high speed aluminum and stainless steel linear motion guide systems »