High Precision Rod End Bearings PHS, POS, PHSA, POSA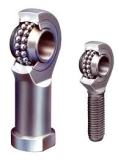 High Precision Rod End Bearings
Rod End Joint Bearing
ISO9001; 2000certificate
Various types, quick delivery
Low price, high precision, excellent quality

Rod End Joint Bearing:
1. Types: PHS, POS, PHSA, POSA, SI...E, SI...ES, SA...E, SA...ES, SI...TK, SA...TK, SA...BK, GIR...UK GIR...UK-2RS etc.

2. Materials: Metallic materials like brass, bronze, iron or steel and often plated with zinc Or chromium Non-mentallic materials like plastic, nylon.

3. Features: Rod Ends are compact self-aligning spherical bushings that can support a large radial Load and a bi-directional axoal load at the same time. These bushings are classified by Sliding surface types, namely insert type, insert type, die-cast type and maintenance- Free type. In the insert type, a spherical inner ring makes contact with the special Copper alloy bushing with superior run-in properties. In the die-cast type, a spherical Inner ring makes direct contact with the bore surface of the body of special zinc Die-cast alloy.
We export high quantities High Precision Rod End Bearings PHS, POS, PHSA, POSA and relative products, we have huge stocks for High Precision Rod End Bearings PHS, POS, PHSA, POSA and relative items, we supply high quality High Precision Rod End Bearings PHS, POS, PHSA, POSA with reasonbable price or we produce the bearings along with the technical data or relative drawings, It's priority to us to supply best service to our clients. If you are interested in High Precision Rod End Bearings PHS, POS, PHSA, POSA,plz email us
admin@tradebearings.com
or send the purchase details to trade b2b website(
www.tradebearings.com
) so the suppliers will contact you directly
Previous Product:
« Heavy Duty Rod Ends Bearings XM & XF Series
Next Product:
High Speed Rod End Bearings (BRM) »