Spherical Rod End Bearing (GE80ES 2RS)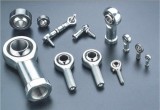 Spherical Rod End Bearing (GE80ES 2RS)
The feature:
It is a kind of special structure of sliding bearings. The structure is simple than rolling bearing, according to its different type and structure, can bear radial load, axial load or the radial, axial co-existing union load. Joint bearings are generally used to speed the lower swing motion (namely the Angle motion), with the sliding surface for spherical shape, yi ke in certain Angle range be tilted movement (I. E. Self-aligning exercise), in supporting shaft and axis shell hole concentricity bigger when, still can work normally.

Application as follow:
Oscillating bearings widely used to the hydraulic oil tank, forging press machine, construction machinery and automation equipment, the vibration damper, and water conservancy machinery industries. Oscillating bearings have a big load carrying capacity and impact resistance. According to different structures and types, oscillating bearings can bear radial load, axial load and combined load.
We export high quantities Spherical Rod End Bearing (GE80ES 2RS) and relative products, we have huge stocks for Spherical Rod End Bearing (GE80ES 2RS) and relative items, we supply high quality Spherical Rod End Bearing (GE80ES 2RS) with reasonbable price or we produce the bearings along with the technical data or relative drawings, It's priority to us to supply best service to our clients. If you are interested in Spherical Rod End Bearing (GE80ES 2RS),plz email us
admin@tradebearings.com
or send the purchase details to trade b2b website(
www.tradebearings.com
) so the suppliers will contact you directly
Previous Product:
« Ball screw and nuts
Next Product:
Single row cylindrical roller bearings NU28/670MA »