Stainless Steel Rod End Bearings GE6E-GE12E, GE15ES-GE160ES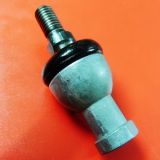 Rod End Bearings
Apply: Auto/Equipments
1. Male and female
2. Left and right hand threaded
3. Lubricant Type.

We can make parts by following manufacturing process according to your drawings or samples.
Forging: 0.03~5kg
Stamping& Punching: Material thickness: 0.5~3.0mm
Machining: Tolerance: +/-0.012
Tube Bending: Dia: 12~100mm
Welding: TIG and Mig; Manual and Robtic.

Our workers operate according to working instruction when they make the parts.
Our inspectors inspect parts according to inspection instruction with controlled drawings in every manufacturing process, so you can be sure the unqualified parts will not reach you.

We have seven kinds of spherical plain bearings, including Rod Ends (Lubricant Type), Two-Piece Type Rod End, Stainless Steel Rod End.

Our products are widely used typically in such industries as textile dyeing machinery, packing, printing, power transmission and medical equipment.
GE6E-GE12E, GE15ES-GE160ES, GEG6E-GEG12E, GEG15ES-GEG120ES, SI6E-SI12E, SI15ES-SI180ES, SA6E-SA12E, SA15ES-SA80ES, SI5T/K-SI30T/K, SA5T/K-SA30T/K, PHS5-PHS30, POS5-POS30, GIHR-K20DO - GIHR-K120DO, GIHR20DO-GIHR120DO, SIQG12E&, SIQG16ES-SIQG125ES, GF20DO-GF120DO, GK10DO-GK80DO, SQD5-SQD16, SQD12-1 - SQD16-1, SQZ5-RS - SQZ22-RS, SQ5-RS - SQ22-RS, GR-3 -GR-30 And costumed is also accepted. Any questions, pls feel free to contact us.

All absolute quality goods, on time delivery, competitive price. Any questions, pls free to contact instantly or by email at your convenience.
We export high quantities Stainless Steel Rod End Bearings GE6E-GE12E, GE15ES-GE160ES and relative products, we have huge stocks for Stainless Steel Rod End Bearings GE6E-GE12E, GE15ES-GE160ES and relative items, we supply high quality Stainless Steel Rod End Bearings GE6E-GE12E, GE15ES-GE160ES with reasonbable price or we produce the bearings along with the technical data or relative drawings, It's priority to us to supply best service to our clients. If you are interested in Stainless Steel Rod End Bearings GE6E-GE12E, GE15ES-GE160ES,plz email us
admin@tradebearings.com
or send the purchase details to trade b2b website(
www.tradebearings.com
) so the suppliers will contact you directly
Previous Product:
« Rod End Bearings( PB, PC, GE, BRL, BI……)
Next Product:
Plastic Flange Bearing »