Threaded Ball Joint Rod End SQZ5-RS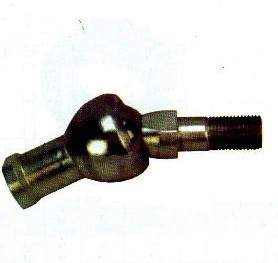 Threaded Ball Joint Rod End SQZ5-RS
Joint Rod End SQ1Z5-RS:
1.Left and right hand threaded
2.Lubricant Type
Joint Rod End SQZ5-RS:
Apply: Auto/Equipments
1. Male and female
2. Left and right hand threaded
3. Lubricant Type
SQZ Series Rod ends: With rubber seal on it is named RS behind model number
Features:
1) Material: GCr15 grade steel with oxygen content less than 20ppm
2) Hardness for rings and rollers: 59 - 63HRC
3) Bearing dimensions and tolerance levels comply with the latest ISO
standards

Model: SQ5 SQ6 SQ8 SQ10 SQ12 SQ14 SQ16 SQ18 SQ20 SQ22
We can also supply SQZ series.
As a professional rod end bearing products manufacturer with many years experiences, we could offer many kinds of rod ends bearing and good quality rod ends bearing.
1.Male and female
2.Left and right hand threaded, metric and inches sizes available
3.Material: mentallic and non- mentallic materials
Mentallic materials like brass, bronze, iron, or steel and often plated with zinc or chromium.
Non-mentallic materials like plastic, nylon.
4.Best price and good quality
5.We can make non-standard rod end bearing according to clients sample or drawing
6.Our delivery is timely
We are open to all sincere buyers, for further information, please contact us.
Welcome to make inquiry, thank you!
We export high quantities Threaded Ball Joint Rod End SQZ5-RS and relative products, we have huge stocks for Threaded Ball Joint Rod End SQZ5-RS and relative items, we supply high quality Threaded Ball Joint Rod End SQZ5-RS with reasonbable price or we produce the bearings along with the technical data or relative drawings, It's priority to us to supply best service to our clients. If you are interested in Threaded Ball Joint Rod End SQZ5-RS,plz email us
admin@tradebearings.com
or send the purchase details to trade b2b website(
www.tradebearings.com
) so the suppliers will contact you directly
Previous Product:
« Male and female ball joint rod end bearing PHS5--PHS30 PHSA6--PHSA30
Next Product:
Steel hydraulic ball joint rod end »