Brass Double Row Taper Roller Bearing 30200 (raial and axial load)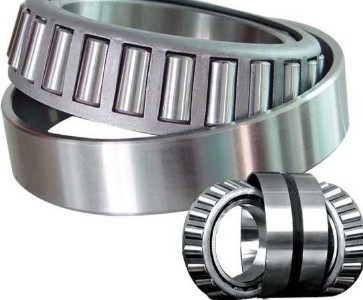 Double Row Taper Roller Bearing 30200 (raial and axial load)
Tapered Roller Bearing Description:
1. Europe Designated, OEM supplier
2. ISO9001:2008
3. More than 10 years experience
Tapered Roller Bearing Description:
Tapered Roller Bearing are mainly used to bear radial load, mainly radial and axial joint load.Generally speaking, the bearing can not bear axial load.The type of tapered roller bearings can install separately and the outer ring,it is not allowed that the bearing axis are titled in the radial load and there will have additional axial force under radial load.
Bearing's Functions:

a

Tapered Roller Bearings,according to the low number of rollers, are defined as single row and four row.The single row tapered roller bearings clearance should be adjusted when they are mounted.For double row and four row tapered roller bearings, the clearance can be provided when assembling them according to national standards, customers don'

b

The tapered roller bearings mainly carry radial,axial combined load with radial load in the main.The capacity of axial load carrying depends on the contact angle of outer ring's raceway.The bigger the contact angle is, the greater the capacity will be.

c.

The bearings are mainly used in metallurgy,milling,rolling mills, automobiles, machines, plastics and other industries.

Bearing Features:

a.

A complete set of advanced CNC machines inspections instruments and devices and professtional technical team.

b.

Nice price with good service.

Precision

P0,P5

Ring Material

GCr15,.GCr15SiMn,G20GrNiMo

Cage materical

Brass, Steel

Payment term

1.30% T/T in advance, 70% should be paid before shipment.

2.100% irrevocable L/C at sight.

Superior quality

ISO 9001:2000,ISO 9001:2008
Physical Characteristics:
(1).Taper roller bearings have tapered inner and outer ring raceway between which tapered rollers are arranged.
(2).Thre projection lines of all the tapered surfaces meet at a common point on the bearing axis.Their design makes taper roller bearing particular accommodation of combined (raial and axial) loads.
(3).The axial load carrying capacity of the bearings is largely determined by the contact angle.The large the angle,the higher the axial load carrying.
(4).Taper roller bearing have the logarithmic contact profile that provides for optimum stress distribution over the roller/raceway/contacts.
(5).The special design of the sliding surfaces of the guide flange and large roller ends considerably promotes lubricant film formation in the roller.
Product Applications:
(1) In many applications tapered roller bearings are used in back –back pairs so that axial forces can be supported equall in either direction.
(2) Pairs of taper roller bearings are used in car and vehicals wheel bearings where they must cope simultaneously with large vertical (radial). And agriculture.Construction and milling equipment, various axie systems,conveyance vehicles, gear box, engine motors, reducers.
We export high quantities Brass Double Row Taper Roller Bearing 30200 (raial and axial load) and relative products, we have huge stocks for Brass Double Row Taper Roller Bearing 30200 (raial and axial load) and relative items, we supply high quality Brass Double Row Taper Roller Bearing 30200 (raial and axial load) with reasonbable price or we produce the bearings along with the technical data or relative drawings, It's priority to us to supply best service to our clients. If you are interested in Brass Double Row Taper Roller Bearing 30200 (raial and axial load),plz email us
admin@tradebearings.com
or send the purchase details to trade b2b website(
www.tradebearings.com
) so the suppliers will contact you directly
Previous Product:
« Radial tapered roller bearing 30200, 30300, 32200, 32300, 33000 and Inch series LM, HM, JL, JHM
Next Product:
Steel And Brass Single Row Tapered Roller Bearing 31000, 33000, 33100, 33200 series »