Double-row and four-row tapered roller bearings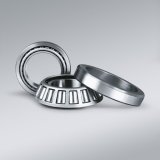 Double-row and four-row tapered roller bearings
Inch taper roller bearing, its apparent feature is the dimesion is not standard. Their components are same as metric taper roller bearing. Inch taper roller bearings are divided into single row, double row and four row types.

Bearings of this type use conical rollers guided by a back-face rib on the cone. These bearings are capable of taking high radial loads and axial loads in one direction.

In the HR series, the rollers are increased in both size and number giving it an even higher load capacity. They are generally mounted in pairs in a manner similar to single-row angular contact ball bearings. In this case, the proper internal clearance can be obtained by adjusting the axial distance between the cones or cups of the two opposed bearings. Since they are separable, the cone assemblies and cups can be mounted independently.

Depending upon the contact angle, tapered roller bearings are divided into three types; Normal angle, medium angle, and steep angle.

Double-row and four-row tapered roller bearings are also available. Pressed steel cages are generally used.
bearing type
Main dimensions mm
Rated Load
Limiting Speed(rpm)
weight(g)
cone
cup
d
D
T
B
C
r(min)
cone
r(min)
cup
Cr(N)
Cor(N)
grease
oil
cone
cup
L45449
L45410
29.000
50.292
14.224
14.732
10.668
3.5
1.3
26800
34000
7100
9500
0.079
0.036
0
2631
29.367
66.421
23.812
25.433
19.050
3.5
1.3
65000
73000
6000
8000
0.242
0.165
17118
17244
30.000
62.000
16.002
16.566
14.288
1.5
1.5
37000
39500
6300
8500
0.136
0.091
15117
15245
30.000
62.000
19.050
20.638
14.288
1.3
1.3
46000
53000
6000
8000
0.189
0.081
15117
15250
30.000
63.500
20.638
20.638
15.875
1.3
1.3
46000
53000
6000
8000
0.189
0.113
26118
26283
30.000
72.000
19.000
18.923
15.875
1.5
1.5
52000
56000
5600
7500
0.225
0.163
15116
25245
30.112
62.000
19.050
20.638
14.288
0.8
1.3
46000
53000
6000
8000
0.189
0.081
8118
8231
30.162
58.738
14.684
15.080
10.716
3.5
1
28800
33500
6000
8000
0.12
0.057
M86649
M86610
30.162
64.292
21.433
21.433
16.670
1.5
1.5
51000
64500
5600
8000
0.211
0.128
M88043
M88010
30.162
68.262
22.225
22.225
17.462
2.3
1.5
55500
70500
5300
7500
0.263
0.145
2558
2523
30.162
69.850
23.812
25.357
19.050
2.3
1.3
71000
84000
5600
7500
0.297
0.169
2559
2523
30.162
69.850
23.812
25.357
19.050
0.8
1.3
71000
84000
5600
7500
0.298
0.169
43118
43300
30.162
76.200
24.608
24.074
16.670
1.5
C3.3
67500
69500
5000
6700
0.383
0.146
15118
15245
30.213
62.000
19.050
20.638
14.288
3.5
1.3
46000
53000
6000
8000
0.186
0.081
15120
15245
30.213
62.000
19.050
20.638
14.288
0.8
1.3
46000
53000
6000
8000
0.188
0.081
15119
15245
30.213
62.000
19.050
20.638
14.288
1.5
1.3
46000
53000
6000
8000
0.188
0.081
M86648A
M86610
30.955
64.292
21.433
21.433
16.670
1.5
1.5
51000
64500
5600
8000
0.205
0.128
8125
8231
31.750
58.738
14.684
15.080
10.716
1
1
28800
33500
6000
8000
0.113
0.057
LM67048
LM67010
31.750
59.131
15.875
16.764
11.811
1.3
34500
41500
6300
8500
0.127
0.062
15123
15245
31.750
62.000
18.161
19.050
14.288
1.3
46000
53000
6000
8000
0.165
0.081
15126
15245
31.750
62.000
19.050
20.638
14.288
0.8
1.3
46000
53000
6000
8000
0.176
0.081
15125
15245
31.750
62.000
19.050
20.638
14.288
3.5
1.3
46000
53000
6000
8000
0.174
0.081
15126
15250
31.750
63.500
20.638
20.638
15.875
0.8
1.3
46000
53000
6000
8000
0.176
0.113
2175
2420
31.750
68.262
22.225
22.225
17.462
3.5
1.5
55000
64000
5600
7500
0.229
0.152
M88046
M88010
31.750
68.262
22.225
22.225
17.462
1.5
1.5
55500
70500
5300
7500
0.25
0.146
14125A
14276
31.750
69.012
19.845
19.583
15.875
3.5
1.3
47000
56000
5600
7500
0.219
0.135
14123A
14274
31.750
69.012
26.982
26.721
15.875
4.3
3.3
47000
56000
5600
7500
0.289
0.132
2580
2523
31.750
69.850
23.812
25.357
19.050
0.8
1.3
71000
84000
5600
7500
0.282
0.169
2582
2523
31.750
69.850
23.812
25.357
19.050
3.5
1.3
71000
84000
5600
7500
0.28
0.169
3188
3120
31.750
72.626
30.162
29.997
23.812
0.8
3.3
79500
90000
5300
7500
0.368
0.225
HM88542
HM88510
31.750
73.025
29.370
27.783
23.020
1.3
3.3
74000
100000
5000
7100
0.379
0.242
346
332
31.750
80.000
21.000
22.403
17.826
0.8
1.3
68500
75500
4500
6300
0.419
0.146
HM88638
HM88610
32.000
72.233
25.400
25.400
19.842
3.3
2.3
63500
83500
5000
7100
0.337
0.188
We export high quantities Double-row and four-row tapered roller bearings and relative products, we have huge stocks for Double-row and four-row tapered roller bearings and relative items, we supply high quality Double-row and four-row tapered roller bearings with reasonbable price or we produce the bearings along with the technical data or relative drawings, It's priority to us to supply best service to our clients. If you are interested in Double-row and four-row tapered roller bearings,plz email us
admin@tradebearings.com
or send the purchase details to trade b2b website(
www.tradebearings.com
) so the suppliers will contact you directly
Previous Product:
« Stainless Steel Thrust ball bearing: 51100, 51200, 51300
Next Product:
High Speed Thrust Roller Bearing SKF, FAG, TIMKEN, INA, NSK, NTN »