Full Complement Cylindrical Roller Bearing (SL182226)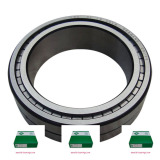 Full Complement Cylindrical Roller Bearing (SL182226)
INA Cylindrical roller bearings SL1822, semi-locating bearing, full complement cylindrical roller set, dimension series 22

Full complement cylindrical roller bearings have solid inner and outer rings and rib-guided cylindrical rollers. Since these bearings have the largest possible number of rolling elements, they have extremely high radial load carrying capacity, high rigidity and are suitable for particularly compact designs. Due to their kinematic conditions, however, they cannot achieve the high speeds that are possible when using cylindrical roller bearings with cage.

Full complement cylindrical roller bearings are available as non-locating, semi-locating and locating bearings and in single and double row designs.
| | | | |
| --- | --- | --- | --- |
| SL18 1832 | SL18 2832 | SL18 2948 | SL18 4922 |
| SL18 1836 | SL18 2836 | SL18 2952 | SL18 4924 |
| SL18 1838 | SL18 2838 | SL18 2956 | SL18 4926 |
| SL18 1840 | SL18 2840 | SL18 2960 | SL18 4928 |
| SL18 1844 | SL18 2844 | SL18 2964 | SL18 4930 |
| SL18 1848 | SL18 2848 | SL18 2968 | SL18 4932 |
| SL18 1852 | SL18 2852 | SL18 2972 | SL18 4934 |
| SL18 1856 | SL18 2856 | SL18 2976 | SL18 4936 |
| SL18 1860 | SL18 2860 | SL18 2980 | SL18 4938 |
| SL18 1864 | SL18 2864 | SL18 2984 | SL18 4940 |
| SL18 1868 | SL18 2868 | SL18 2988 | SL18 4944 |
| SL18 1872 | SL18 2872 | SL18 2992 | SL18 4948 |
| SL18 1876 | SL18 2876 | SL18 2996 | SL18 4952 |
| SL18 1880 | SL18 2880 | SL18 29/500 | SL18 4956 |
| SL18 1884 | SL18 2884 | SL18 29/530 | SL18 4960 |
| SL18 1888 | SL18 2888 | SL18 29/560 | SL18 4964 |
| SL18 1892 | SL18 2892 | SL18 29/600 | SL18 4968 |
| SL18 1896 | SL18 2896 | SL18 29/630 | SL18 4972 |
| SL18 18/500 | SL18 28/500 | SL18 3020 | SL18 4976 |
| SL18 18/530 | SL18 28/530 | SL18 3022 | SL18 4980 |
| SL18 18/560 | SL18 28/560 | SL18 3024 | SL18 4984 |
| SL18 18/600 | SL18 28/600 | SL18 3026 | SL18 4988 |
| SL18 18/630 | SL18 28/630 | SL18 3028 | SL18 4992 |
| SL18 18/670 | SL18 28/670 | SL18 3030 | SL18 4996 |
| SL18 18/710 | SL18 28/710 | SL18 3032 | SL18 49/500 |
| SL18 18/750 | SL18 28/750 | SL18 3034 | |
| SL18 18/800 | SL18 28/800 | SL18 3036 | |
| SL18 18/850 | SL18 28/850 | SL18 3038 | |
| SL18 2220 | SL18 2920 | SL18 3040 | |
| SL18 2222 | SL18 2922 | SL18 3044 | |
| SL18 2224 | SL18 2924 | SL18 3048 | |
| SL18 2226 | SL18 2926 | SL18 3052 | |
| SL18 2228 | SL18 2928 | SL18 3056 | |
| SL18 2230 | SL18 2930 | SL18 3060 | |
| SL18 2232 | SL18 2932 | SL18 3064 | |
| SL18 2234 | SL18 2934 | SL18 3068 | |
| SL18 2236 | SL18 2936 | SL18 3072 | |
| SL18 2238 | SL18 2938 | SL18 3076 | |
| SL18 2240 | SL18 2940 | SL18 3080 | |
| SL18 2244 | SL18 2944 | SL18 4920 | |
We export high quantities Full Complement Cylindrical Roller Bearing (SL182226) and relative products, we have huge stocks for Full Complement Cylindrical Roller Bearing (SL182226) and relative items, we supply high quality Full Complement Cylindrical Roller Bearing (SL182226) with reasonbable price or we produce the bearings along with the technical data or relative drawings, It's priority to us to supply best service to our clients. If you are interested in Full Complement Cylindrical Roller Bearing (SL182226),plz email us
admin@tradebearings.com
or send the purchase details to trade b2b website(
www.tradebearings.com
) so the suppliers will contact you directly
Previous Product:
« Single row cylindrical roller bearings NU28/670MA
Next Product:
SKF High Precision Single Row Cylindrical Roller Bearing ABEC-5 »