Double Row Ball Structure Slewing Bearing(Stainless steel)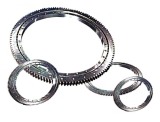 Double Row Ball Structure Slewing Bearing
1. Material: Stainless steel, chrome steel
2. Type: Single Row Ball Structure, Single Row Crossed Roller Structure, Double Row Ball Structure, Three Row Roller Structure and non-standard type.
3. Application: Cranes, excavators, mining/heavy equipments, port/marine machinery; Light industry like food machinery, packing machinery, metallurgical machinery, steel works equipment, sewage treatment plant; Wind power Field; Agricultural machinery; Military products.
4. Notes:
1) The size of Double-Row Ball Slewing Bearing is great; Its diameter is generally between 0.4m~10m, some even is up to 40m.
2) Slewing bearing usually bears load from different parts. It doesn't only bear the axial force, radial force, but also tipping moment simultaneously. Therefore, a set of Slewing bearing often completes the functions of many sets of common roller bearing. The speed of Slewing bearing is fairly low, usually below 10 r/min. Moreover, on most occasions, Slewing bearing doesn't slew continually, but only slew back and force in a certain angle like the so called Swing Bearing.
3) Slewing bearing differs greatly from roller bearing in process techniques, material and heat treatment. Generally, Slewing bearing has gear ring as driving device and Seal Device to pretend dust. Unlike the common bearing fixed on the central pivot in the bearing box, slewing bearing has big size and is attached to upper and lower plates by bolts.
5. Packing: Industrial packing, wooden case or steel pallet.
We export high quantities Double Row Ball Structure Slewing Bearing(Stainless steel) and relative products, we have huge stocks for Double Row Ball Structure Slewing Bearing(Stainless steel) and relative items, we supply high quality Double Row Ball Structure Slewing Bearing(Stainless steel) with reasonbable price or we produce the bearings along with the technical data or relative drawings, It's priority to us to supply best service to our clients. If you are interested in Double Row Ball Structure Slewing Bearing(Stainless steel),plz email us
admin@tradebearings.com
or send the purchase details to trade b2b website(
www.tradebearings.com
) so the suppliers will contact you directly
Previous Product:
« Chrome Steel Taper Roller Bearing (30200, 30300, 32300 series)
Next Product:
Chrome Steel Flanged Linear Motion Ball Bearing and Shaft »