Double-row four point contact ball slewing beairng XOU50/3550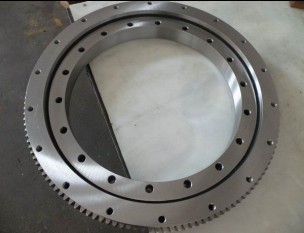 Double-row four point contact ball slewing beairng XOU50/3550
slewing bearing :
IHI,FMC,JSW,ABB etc are our main customers.
ISO9001:2008 Approval ,OEM accepted.
Approval and has been certified since 2001.

engineering and manufacturing bearing to fit any special equipments according to customer
specification.
1.High load-carrying capability
2.Ability to accept the combined loads;axial ,radial and tilting moments
3.Flexibility with product design.
4.42CrMo/50Mn material be used to make slewing ring bearing
Slewing Ring Bearing Specification:
1.Bearing Dimensions rang from OD300 mm to OD 6000 mm
2.Can be provided with gearless,internal gear or external gear
3.Can be proveded with internal /external flange.
4.Ball or crossed roller slewing ring bearing design.
5.Single row, double-row,trip-row slewing ring bearing design
6.Lubrication holes
7.Preload options are available as well as variations in clearance
Slewing Ring Bearing Application:
Wind Power
Metallurgical Equipments
Construction Equipments
Package Machinery
Onshore/offshore Crane
Drill and Mining
Statellite Equipment
Textile Machinery
All the bearing were strict inspection,clean ,rust-proof treatment,waterproof packing ,single box to fit long transportation before delivery .
We export high quantities Double-row four point contact ball slewing beairng XOU50/3550 and relative products, we have huge stocks for Double-row four point contact ball slewing beairng XOU50/3550 and relative items, we supply high quality Double-row four point contact ball slewing beairng XOU50/3550 with reasonbable price or we produce the bearings along with the technical data or relative drawings, It's priority to us to supply best service to our clients. If you are interested in Double-row four point contact ball slewing beairng XOU50/3550,plz email us
admin@tradebearings.com
or send the purchase details to trade b2b website(
www.tradebearings.com
) so the suppliers will contact you directly
Previous Product:
« Single-Row And Double-Row Ball Slewing Bearing ZLC-Bearing Z,ZZ,RS,2RS
Next Product:
Large-Size Four Point Contact Ball Slewing Bearings 440 - 3990 mm »