Large Cross Roller Slewing Ring Bearing D797/380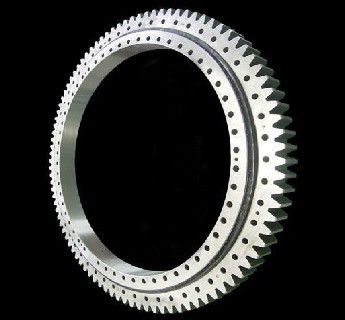 Large Cross Roller Slewing Ring Bearing D797/380
1. slewing bearing D797/380
2. 131.32.2800.03,134.36.2650.03K,134.25.2250.03

Turntable bearing (slewing ring), also known as slewing ring bearing turntable, an affordable large-scale integrated load bearing, Be able to support large axial, radial load and overturning moment. Wheel bearings are generally of a mounting hole, inner gear or outer gear, lubrication holes and sealing devices, which can host design, compact structure, guidance is simple, easy to maintain. wheel bearings with or without gear, external gear and internal gear wheel four-point contact ball bearings, double row angular contact ball wheel bearings, cross-cylindrical roller wheel bearings, cross-tapered roller wheel bearings and three-row cylindrical roller recombination turntable bearing four series.
| | | | | |
| --- | --- | --- | --- | --- |
| No. | Items | Dimension | Weight(kg) | Main Customer |
| 1 | 110.15.405.02 | 336×474×46 | 23.8 | South Asia |
| 2 | D797/380 | 380×480×26 | 12.1 | South Asia |
| 3 | 110.40.2000.12 | 1825×2178×112 | 776 | South Asia |
| 4 | 134.25.2250.03 | 1944×2448×154 | 1360 | Brg Co.,in Japan |
| 5 | 134.36.2650.03K | 2320×2862×216 | 2565 | Brg Co.,in Japan |
| 6 | 131.32.2800.03 | 2610×3132×173 | 2256 | Brg Co.,in Sweden |
We export high quantities Large Cross Roller Slewing Ring Bearing D797/380 and relative products, we have huge stocks for Large Cross Roller Slewing Ring Bearing D797/380 and relative items, we supply high quality Large Cross Roller Slewing Ring Bearing D797/380 with reasonbable price or we produce the bearings along with the technical data or relative drawings, It's priority to us to supply best service to our clients. If you are interested in Large Cross Roller Slewing Ring Bearing D797/380,plz email us
admin@tradebearings.com
or send the purchase details to trade b2b website(
www.tradebearings.com
) so the suppliers will contact you directly
Previous Product:
« Cross Roller Slewing Rings Bearings-Turntable bearings E787/760G2
Next Product:
Large crossed cylindrical roller slewing ring bearings 600 - 6000 mm »