Large size three-row cylindrical roller slewing bearing H005-001 (FAG, LYC, SKF, TIMKEN)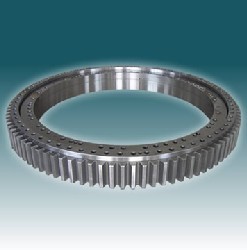 Large size three-row cylindrical roller slewing bearing H005-001 (FAG, LYC, SKF, TIMKEN)
slewing bearing
name:three row cylindrical roller slewing bearing
Model no.: H005-001
We are situated at the city of Lishui, the ancient capitals of Nine Dynasties,which is specialized in designing,developing producing and selling the large-size,extra-large-size,slewing , non-standard and other special bearings.
Slewing bearing is one of our main products.
1. four point contact ball slewing bearing (no gear, external gear, internal gear);
2. two row ball slewing bearing;
3. crossed cylindrical roller slewing bearing;
4. three row cylindrical roller slewing bearing;
5. crossed tapered roller slewing bearing;
6. ball and roller combined slewing bearing.
With advanced science and technology, the company develops and manufactures various kinds of bearing products with inner diameter of over 100 mm according to the national standard,such as large-size and extra-large-size deep-groove ball bearings,angular contact ball bearings,single,double and four-row cylindrical roller bearings,spherical roller bearings,single,double and four-row tapered roller bearings,spherical ball bearings,thrust ball bearings,thrust roller bearings,slewing bearings,and split bearings,the products are widely used in the fields all over the country, such as port,machine tools,mining,metallurgy,power industry,medical,heavy machinery,coal machinery,cement machinery,petroleum exploration as well as national defence industry.With the right to handle the export.
We export high quantities Large size three-row cylindrical roller slewing bearing H005-001 (FAG, LYC, SKF, TIMKEN) and relative products, we have huge stocks for Large size three-row cylindrical roller slewing bearing H005-001 (FAG, LYC, SKF, TIMKEN) and relative items, we supply high quality Large size three-row cylindrical roller slewing bearing H005-001 (FAG, LYC, SKF, TIMKEN) with reasonbable price or we produce the bearings along with the technical data or relative drawings, It's priority to us to supply best service to our clients. If you are interested in Large size three-row cylindrical roller slewing bearing H005-001 (FAG, LYC, SKF, TIMKEN),plz email us
admin@tradebearings.com
or send the purchase details to trade b2b website(
www.tradebearings.com
) so the suppliers will contact you directly
Previous Product:
« Single-row ball slewing ring bearing (HSW.25.720)
Next Product:
Cross Roller Slewing Rings Bearings-Turntable bearings E787/760G2 »