Self-Lubrication Sliding Bearings (Split Plain Bearing)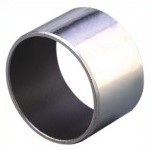 Self-Lubrication Sliding Bearings (Split Plain Bearing)
Sliding bearing is wall wrapped bearing made of triple layer composites material which consists of a steel backing, a sintered porous bronze particles interlayer and calendared with PTFE and Pb mixture as surface layer. It is of low friction cofeeicient and has good performance in anti-wear, anti-corrosion and can be used without oil lubrication. It is of low cost, compact, anti shaft seizing and low noise.
Sliding bearing is widely applied in various sliding position of different kind of machines, such as textile machines, lift, tobacoo machines, fitness equipment, hydraulic vechicles, antomobiles, agriculture and forest machinese and so on.
Load capacity: 140N/mm2
Friction coef(u): 0.04~0.20
Temperature: -195~+280° C
Speed limit: 5m/s
PV limit(dry): 3.6N/ mm2. M/s
PV limit(oil): 50N mm2. M/s.
We export high quantities Self-Lubrication Sliding Bearings (Split Plain Bearing) and relative products, we have huge stocks for Self-Lubrication Sliding Bearings (Split Plain Bearing) and relative items, we supply high quality Self-Lubrication Sliding Bearings (Split Plain Bearing) with reasonbable price or we produce the bearings along with the technical data or relative drawings, It's priority to us to supply best service to our clients. If you are interested in Self-Lubrication Sliding Bearings (Split Plain Bearing),plz email us
admin@tradebearings.com
or send the purchase details to trade b2b website(
www.tradebearings.com
) so the suppliers will contact you directly
Previous Product:
« Looking for a cross for Misumi #sb6005zz (stainless steel bearings)
Next Product:
Self-Lubrication Gear Oil Pump Bushing (Split Plain Bearing) »