Self-Aligning Double Row Spherical Roller Bearing 21000, 22000, 23000, 24000 series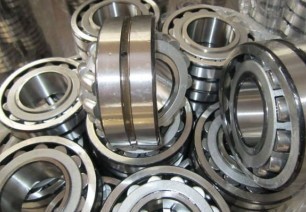 Self-Aligning Double Row Spherical Roller Bearing 21000, 22000, 23000, 24000 series
Spherical roller bearing
Competitive price,
Reliable quality,
Good service,
Fast delivery time
Spherical roller bearings have good self-aligning ability and can perform during the shaft deflection under load or the shaft misalignment in mounting. This type of bearings has heavy load carrying capacity and anti-impact ability. In addition to radial loads, they can also carry axial loads in two directions. Vista mainly offers 22xxx,23xxx,24xxx series,wide inner ring Series spherical roller bearings. The type with lubricating oil hole in the inner ring can also be supplied.
Designs and Structures
CTN1: Nylon retainer.
C: Stamped steel retainer and strengthened symmetric rollers; offers considerably higher load ratings than conventional designs for a broad range of applications and long service life.
CA: Alternative design of C design; Precision-machined one-piece brass retainer and strengthened symmetric rollers; used to exchange with C design, especially for large size.
MB: Two-piece precision-machined brass retainer and strengthened symmetric rollers; equivalent to C design in load capacity.
CC: steel cage, replace traditionalbrass cage.
E: Third generation design.
The bearing contact is completely optimized and has improved stress distribution; offer much longer service life than normal designs.
Variations of exterior shape of inner & outer ring
K: tapered bore with taper of 1:12.
N: locking groove on the outside ring.
K30: tapered bore with taper of 1:30.
W33: There are lubricating groove and three lubricating holes on the outside ring for fitting together with the body structure so as to realize the bearing lubrication from outside.
Clearance
C2: less than nominal clearance.
C0: nominal clearance, omitted in designation.
C3: larger clearance than C0.
C4: larger clearance than C3.
C5: larger clearance than C4.
We export high quantities Self-Aligning Double Row Spherical Roller Bearing 21000, 22000, 23000, 24000 series and relative products, we have huge stocks for Self-Aligning Double Row Spherical Roller Bearing 21000, 22000, 23000, 24000 series and relative items, we supply high quality Self-Aligning Double Row Spherical Roller Bearing 21000, 22000, 23000, 24000 series with reasonbable price or we produce the bearings along with the technical data or relative drawings, It's priority to us to supply best service to our clients. If you are interested in Self-Aligning Double Row Spherical Roller Bearing 21000, 22000, 23000, 24000 series,plz email us
admin@tradebearings.com
or send the purchase details to trade b2b website(
www.tradebearings.com
) so the suppliers will contact you directly
Previous Product:
« SKF High Misalignment Spherical Bearings 22000,23000,24000 series
Next Product:
Importer Of Automotive Bearing 805201 805201 805546 »