Spherical Roller Bearings 22205CA-22238CA, 22308CA-22334CA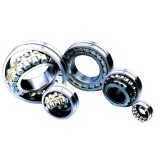 Spherical Roller Bearings 22205CA-22238CA, 22308CA-22334CA
We can supply a lot of types, for exp: 22205CA-22238CA, 22308CA-22334CA, 21304CA-21324CA, 23020-23224CA, , and 22208 22208K 22310CC 22222 22308K 22308CC 22315 22340K 22317K
22336K 22317K 22215CCK 22216EK 22218CCK/W33 22219CCK/W33 22322CCK/W33 22322EK 22324CCK/W33
And so on.
Spherical roller bearings are inherently self-aligning and very robust. The two rows of rollers make the bearings able to carry heavy loads. With the same center as the bearing, the spherically formed outer ring raceway can make self-alignment. Their rolling elements linearly come into contact with the raceways of inner ring and outer ring. The Spherical Roller Bearings can take great radial load. More recently a range of sealed spherical roller bearings has been added to the assortment. Split spherical roller bearings are usually based on the standard bearings but can be customized as required.

Features:
1) Spherical roller bearings are principally provided with two rows of symmetrical spherical rollers and a common sphere raceway in out ring, the two inner ring raceways are included at an angle to the bearing axia

2) The bearings have good self-aligning ability and can operate when the shaft deflection under load or the shaft deflection under load or the shaft misaligning in mounting, and their permissible aligning angle is 1 to 2.5 degree

3) This type of bearings has heavy load carrying capacity and anti-impact ability, in addition to radial loads, they also can carry axial loads in two directions

4)In general, this type of bearings permits a low limiting speed.
We export high quantities Spherical Roller Bearings 22205CA-22238CA, 22308CA-22334CA and relative products, we have huge stocks for Spherical Roller Bearings 22205CA-22238CA, 22308CA-22334CA and relative items, we supply high quality Spherical Roller Bearings 22205CA-22238CA, 22308CA-22334CA with reasonbable price or we produce the bearings along with the technical data or relative drawings, It's priority to us to supply best service to our clients. If you are interested in Spherical Roller Bearings 22205CA-22238CA, 22308CA-22334CA,plz email us
admin@tradebearings.com
or send the purchase details to trade b2b website(
www.tradebearings.com
) so the suppliers will contact you directly
Previous Product:
« High Speed Brass Steel Spherical Roller Bearing (23856 Series)
Next Product:
Double row spherical roller bearing 22320CA »