Thrust Ball Bearing (51124/P4)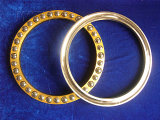 Thrust Ball Bearing (51124/P4)
1. Typical Features
High carrying capacity and rigidity
High precision, good stability
Long service life, low noise

2. Wide Applications
WZFB thrust ball bearings are used in machine tool spindles, the rotational worktable of vertical lathes, automobile steering gears and so on

3. Wide varieties
WZFB can serve you with thrust ball bearings of different sizes as long as the ID is over 70mm and OD is less than 1600mm

4. Strict inspection system and perfect after sales services
WZFB has extremely strict inspection system in order to meet the top quality requirement. We also put great emphasis on the after sales services. Our knowledgeable engineers are ready to give any technical consultation for our customers. WZFB will keep any possible quality trouble far away from you.

5. ISO9001: 2000
WZFB is certified with the certificate of ISO9001: 2000 by SGS and always closely follows it.
We export high quantities Thrust Ball Bearing (51124/P4) and relative products, we have huge stocks for Thrust Ball Bearing (51124/P4) and relative items, we supply high quality Thrust Ball Bearing (51124/P4) with reasonbable price or we produce the bearings along with the technical data or relative drawings, It's priority to us to supply best service to our clients. If you are interested in Thrust Ball Bearing (51124/P4),plz email us
admin@tradebearings.com
or send the purchase details to trade b2b website(
www.tradebearings.com
) so the suppliers will contact you directly
Previous Product:
« Thrust Bearings Ball & Roller Bearings
Next Product:
608 Full Ceramic Bearing (Si3N4) »