High precision Linear Motion unit guide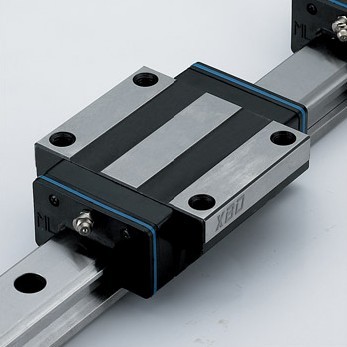 Precision Linear Guide
Description: XBD series linear guideway is possessed with high load capacity and high rigidity because of the four rows design. It also features the same load in four directions and self-aligning capability to absorb installation-error which can achieve high accuracy. Besides, the lower assembly height and the shorter length make the XBD series linear guide more suitable for the high-speed automatic machines and the applications where space limit is considered. Applications Automatic device High speed transportation equipment Precision measuring equipment Semiconductor manufacturing equipment Wood working machine
Precise Linear Motion
1. Reference face and grooves are ground simultaneously by special grinding machines
 2. Simple construction of the runner block
 3. The rail's high degree of straightness enhances final installation accuracy
Equal Load Carrying Capacity in Four Directions
 Steel balls recirculate in four separate grooves between the rail and the runner block and contact both surfaces at a 45°angle. Equal load can be applied bi-directionally in both horizontal and vertical axes. Our system is also capable of withstanding moment loads.
High Load and Moment Rigidity
1. The benefits of full radius ball raceways are well established in the manufacture of precision ball screws. The circular shape provides ideal ball to ball raceway contact giving great rigidity. The circular arch design offers very low slip during rolling; therefore, wear is significantly reduced over other designs.
 2. The precise geometry and the square configuration of the ball raceway are ideal for preloading and system rigidity.
 3. A range of preloads are available depending upon the requirements for rigidity and load capacity. Preload is achieved by the selection of precisely graded bail diameter.
Features: With high load capacity, high rigidity and high speed features.
Material: Bearing steel (GCr15)
Hardness: more than 62 degree
Model number: XBD series
Brand name: BST
Max length: 4000mm
Service conditions:
The place where two shafts are used side by side with requirements of constant load direction, small vibration, and low in precision, but small in sliding resistance.
The place where cantilever load or torque acts on and one shaft are used, with requirements of light load but high precision.
With requirements of high rigidity, vibration and impact, Heavy cutting machine tools etc.
Application:
Beam welded machinery; bookbinding machine; automatic packer; XY shaft of ordinary industrial machinery; automatic door and window processing machine; welder; fuse; tool exchanger; supply devices with various materials
Grinder table feed shaft; automatic coater; industrial robot; supply devices with various high-speed materials Z shaft of ordinary industrial machinery; printing circuit board hole; spark processing machine; analyzer; precision XY platform.
Machining center, NC lathe; grinder feed shaft; miller, vertical or horizontal boring machine; cutter guide; Z shaft of working machinery.
Installation of Linear guide:
1) Use whetstone to polish the round edge and burr on the installing surface of guide way foundation and clean the datum plane of guide way (little arc on the side of guide way and slide)
2) Set the reference-side of guide way opposite to the reference-side of installing step.
3) Check the position of screw bolt and ensure the correctness of the position of screw.
4) Pretension the fixing bolt to closely connect the reference-side of guide way to the side of installing step.
5) Finally screw down the fixing bolt.

Unit: μm
| | | | | | | |
| --- | --- | --- | --- | --- | --- | --- |
| Precision Class Items | 1 | 2 | 3 | 4 | 5 | 6 |
| Height allowable dimension variation Single | ±5 | 12 | 25 | ±50 | ±100 | ±200 |
| Width allowable dimension variation Single | ±8 | 15 | 30 | ±60 | ±150 | ±240 |
| Heights of twin guides Mutual variation More | 3 | 5 | 7 | 20 | 40 | 60 |
| Width of twin guides mutual variation More | 5 | 7 | 10 | 25 | 70 | 10 |


| | | | |
| --- | --- | --- | --- |
| Model Size: | H (mm) | B2 (mm) | L2 (mm) |
| XBD15 | 24 | 38 | 30 |
| XBD20 | 30 | 53 | 42 |
| XBD25 | 36 | 57 | 45 |
| XBD30 | 42 | 72 | 52 |
| XBD35 | 48 | 82 | 62 |
| XBD45 | 60 | 100 | 80 |

Slide Type:
Wide type A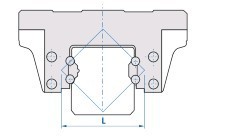 Narrow type B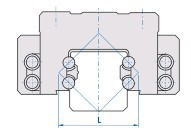 Download:

High precision Linear Motion unit guide

High precision Linear Motion unit guide Manufacturer, Supplier, Factory, Exporter in china
We export high quantities High precision Linear Motion unit guide and relative products, we have huge stocks for High precision Linear Motion unit guide and relative items, we supply high quality High precision Linear Motion unit guide with reasonbable price or we produce the bearings along with the technical data or relative drawings, It's priority to us to supply best service to our clients. If you are interested in High precision Linear Motion unit guide,plz email us
admin@tradebearings.com
or send the purchase details to trade b2b website(
www.tradebearings.com
) so the suppliers will contact you directly
Previous Product:
« Extension Act of bearing using Life Cycle
Next Product:
Double Row\Single Row FAG taper roller bearing 30209A 30217A 30315A 32020X 32017X 32036X 32040X »