Linear Guide Rail (Full Roller Type, MSR Series)

Linear Guide (MSR)
1. Ultra Heavy Load
2. The Optimization Design of Four Directional Load
3. Ultra High Rigidity
Linear Guide (Full Roller Type, MSR Series)
Characteristics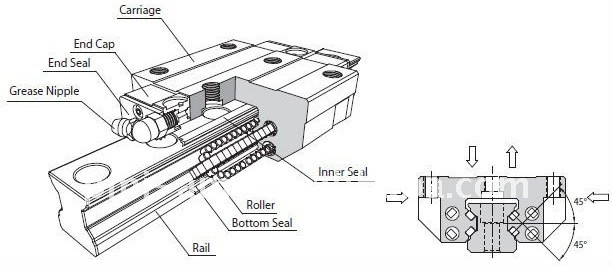 The full roller type linear guideway, MSR series, equip with rollers instead of the ball, and therefore the MSR series can provide higher rigidity and loading than the normal type with the same size. Especially suit for the requests of high accuracy, heavy load and high rigidity.
Ultra Heavy Load
MSR linear guideway through rollers have a line contact with carriage and rail. Relative to the general type linear guideway through balls have a point contact; the MSR type linear guideway can off er lower elastic deformation while bearing the same load. Base on the rollers have the same outer diameter with balls, the roller can bear the heavier load. The excellent characteristics of high rigidity and ultra heavy load can suitable for the high accuracy application that heavy load is processed even more.
The Optimization Design of Four Directional Load
Through the structure stress analysis of finite element method, SMR series have four trains of rollers are designed to a contact angle of 45° and the section design for high rigidity. Except for bearing heavier loads in radial, reversed radial and lateral directions, a suffi cient preload
can be achieved to increase rigidity, and this makes it suitable for any kind of installation.
Ultra High Rigidity
We export high quantities Linear Guide Rail (Full Roller Type, MSR Series) and relative products, we have huge stocks for Linear Guide Rail (Full Roller Type, MSR Series) and relative items, we supply high quality Linear Guide Rail (Full Roller Type, MSR Series) with reasonbable price or we produce the bearings along with the technical data or relative drawings, It's priority to us to supply best service to our clients. If you are interested in Linear Guide Rail (Full Roller Type, MSR Series),plz email us
admin@tradebearings.com
or send the purchase details to trade b2b website(
www.tradebearings.com
) so the suppliers will contact you directly
Previous Product:
« Linear roller guide OSG-20/25/30/40 wheel inear rail
Next Product:
Cross roller or ball slide way Linear motion guide GRV »