Taper Roller Bearing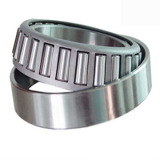 Taper Roller Bearing
Tapered roller bearings are bearings that can take large axial forces as well as being able to sustain large radial forces.
The inner and outer ring raceways are segments of cones and the rollers are also made with a taper so that the conical surfaces of the raceways and the roller axes if projected, would all meet at a common point on the main axis of the bearing.
This conical geometry is used as it gives a larger contact patch, which permits greater loads to be carried than with spherical (ball) bearings, while the geometry means that the tangential speeds of the surfaces of each of the rollers are the same as their raceways along the whole length of the contact patch and no differential scrubbing occurs. This avoids rapid wear and greatly reduces rolling friction.
The rollers are guided by a flange on the inner ring. This stops the rollers from sliding out at high speed due to their momentum.

We have been certified by quality management system in accordance with ISO9001: 2000, and also have been authorized to operate import and export. We have many years history in manufacturing slewing bearing and our products are exported to USA, England, France and some other western countries.

Manufacturing facilities and technical abilities
Our inspecting and testing instruments are advanced and complete, engineers are professional, and management system is scientific. So we can offer slewing bearings with various types, specifications, and precision grades.

Quality
Our R&D and effective operation create a good production base. High standard material, advanced inspection equipment, standard inspection process, and mature craft (cast, lathe, heat treatment, grinder, mill and bore) make a reliable quality. We always believe that quality is the soul of an enterprise.

Featured Products
Competitive products in our company are Four-Point Contact Ball Slewing Bearings, Double-Row Angular Contact Ball Slewing Bearings, the Crossed Cylindrical Roller Slewing Bearings, and Three-Row Roller Slewing Bearing. We can offer such series of slewing bearings with diameters from 200mm to 6, 500mm. The technical indexes of products in our company are all qualified with national standard.
Applied Fields
Our bearings are extensively applied in such industries as metallurgy, vessel, oil, chemistry, mine, coal, hydroelectric power, port machinery, heavy machinery and aerospace or some other fields.
Regular application areas:
Mine machine, port hoisting machine, port oil transfer equipment, onshore and offshore crane, excavator, concrete machine, paper machine, plastic and rubber machine, weave machine, steel plant, electronic power plant, wind power generator, other construction and industry machines or equipment.
More exports experiences:
Most of our products are export to overseas markets, and our customers are satisfied with our bearings up to date. Please contact us if you want to get more detailed information about our products and company. We will offer the best service to you.

We are looking forward to your enquiry and to cooperating with you successfully with "win-win" concept.
We export high quantities Taper Roller Bearing and relative products, we have huge stocks for Taper Roller Bearing and relative items, we supply high quality Taper Roller Bearing with reasonbable price or we produce the bearings along with the technical data or relative drawings, It's priority to us to supply best service to our clients. If you are interested in Taper Roller Bearing,plz email us
admin@tradebearings.com
or send the purchase details to trade b2b website(
www.tradebearings.com
) so the suppliers will contact you directly
Previous Product:
« Single Taper Roller Rolling Mill Bearing
Next Product:
Double-Row Ball with Different Diameter Slewing Bearing »